Reflections of the Ego
21 minute film by Estonian film maker Ragnar Kivistik. Features music from Secret Observatory and Radio Silence.
Message from Mother Earth (V)
Short film by Gabriel Lakey. Features music from Autumn Continent.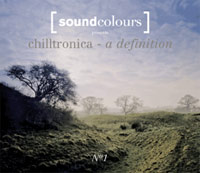 Tracklist:
Grotesquely Beautiful - Antonymes
Don´t Stop - Blank + Jones with Claudia Brücken
Unanswered Letters - Bliss
Morning After - Michael Rother
Shelter (Slow Phase) - Spooky
Ghosts - Infantjoy feat. Sarah Nixey
Hinterland - Marconi Union
Floatation - The Grid
The 7 Solution - Bdum Bdum Sound
Ghost Trains - Erlend Øye
Shortcuts (Lulu Rouge Remix) - Trolle Siebenhaar
Melankoli - Lulu Rouge
Waiting For The Night - Depeche Mode
Zero Gravitation (Beatless Mix) - Johan Agebjörn
Chilltronica - a definition
An autumn-inspired ambient/chillout compilation released October 2008 on the
Soundcolours
label. The disc is compiled by the creators of trance/club music project Blank + Jones. It features the Between Interval-remix of Sally Shapiro - Sleep in my Arms.
This is a very nice production that comes in a beautifully designed digipak. No reviews available just yet...
Tracklist:
I'll Be By Your Side (Tensnake Remix)
I Know You're My Love (Juan MacLean Remix)
Find My Soul (Holy Fuck Remix)
Anorak Christmas (Woodhands Remix)
He Keeps Me Alive (Skatebård Remix)
Hold Me So Tight (The Cansecos Remix)
Skating in the Moonshine (Jon Brooks Remix)
Jackie Junior (Junior Boys Remix)
Time to Let Go (Lindström Remix)
Sally Shapiro - Remix Romance vol. 1
For this remix album, Sally Shapiro producer Johan Agebjörn asked me to do a remix of the track "Sleep in my arms". I'm usually quite restrictive about what remix requests to accept, but this was an opportunity I'm very happy about.
Norway's Skatebård nearly beats Agebjörn at his own game with the vocoders, snow-frosted synths, and whimsical whistles of "He Keeps Me Alive"; Sweden's Between Interval re-imagines rain-drenched "Sleep in My Arms" as a serene, ambient space walk. Sure, absence makes the heart grow fonder, but Remix Romance Vol. 1 reaffirms that Shapiro's music is the type you can live with day in and day out. You know, a lasting romance.
- Marc Hogan,
Pitchfork
Tracklist:
Parish - Intimate Motion
John Rabbit Bundrick - Sacred Dream
Bekki Williams - Amber Dawn (Twilight Mix)
Tom Salvatori & Iris Litchfield - Breath of Spring
Katie Hope - Searching for the Spirit
Emma Ninel - Light in you
Matthew Labarge - I can't believe I'm the only one
Ataraxia - The Nine Rituals
Christ. - Cordate
Freud - Phantasmagoria
Nana Raven - Dream Sequence (excerpt)
New Age Music And New Sounds vol. 181
Released 2008
CD compilation which came with the 181st volume of Italian magazine
New Age and new sounds
. Featured track: Between Interval - The Tides of Time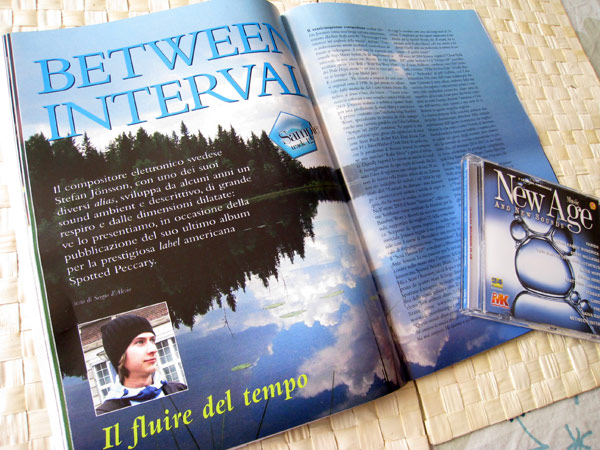 New Age And New Sounds article on Between Interval
Tracklist:
Project Andrew Rotten - En Passant
Altres - Brain Flame
Modulator ESP - Tsunami
Certamen - The Storm Is Here
Carboneids - Phasers
Thom Brennan - Silver (Part 1) (excerpt)
Carboneids - Abstinens Synthomer
Brendan Pollard - Tropic
Parallel Worlds - Dreamstate
Parallel Worlds - Soulgates
Robert Schröder - Doo Doo
E-dition Magazine vol. 10
Released 2005
CD compilation which came with the 10th volume of former electronic music magazine E-dition. Featured track: Between Interval - Garden of the Divine (excerpt)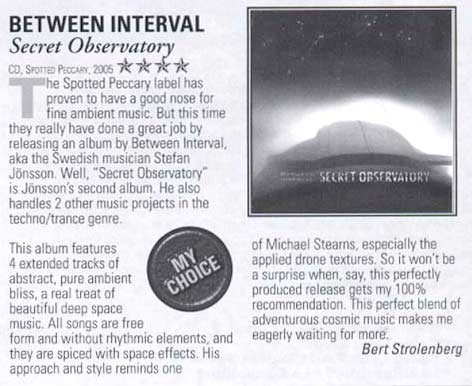 E-dition Magazine review of Between Interval - Secret Observatory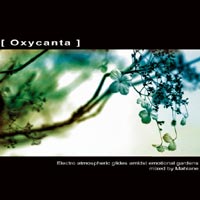 Tracklist
GHOSTFRIEND - Moist
SOLAR FIELDS - Detection (partially detected)
AES DANA - Mineral Lights (Submerge edit)
CELL - Floating Retention
ASURA - Galaxies part 1
SYNC24 - Source
HYBRID LEISURELAND - Trampoline Hotel
SUBGARDENS - Listen to the flowers grow (Aes Dana rmx)
OMNIMOTION - Magic Tree
Various artists - Oxycanta
Released April 2006 on Ultimae Records
A deep floating compilation embodying the works of pioneers in the exploration of a new wave of electro ambient music. Oxycanta is an expression of spatial density with the constant presence of our natural environment at times in its organic recorded form, others transduced into atmospheric textures by advanced technologies. Its title derives from Crataegus Oxyacantha, commonly known as the Hawthorn, a tree whose leaves and berries are legendary for their heart-healing properties.
Compiled and mixed by Mahiane, aka Sunbeam, co-manager of Ultimae, label artist and deejay, Oxycanta presents various compositions gliding into each other with intangible.
Mastered by Huby Sea at Ginger Cross Hill studio.
Another stellar Ultimae compilation comes to a halt – and once again I'm filled with satisfaction as the journey comes to an end… This is another above-average chill-out compilation by the leading chill label. The Ultimae compilation formula doesn't surprise much any longer – it's pretty much the same structurally and flow-wise, but why change a winning formula when it's *this* good?

There are no bad tracks here, and there's only one track that I didn't really dig – and a couple of tracks that took a while to get into… But it's all good – literally! Especially the middle part of the compilation is extremely nice – and I keep dropping my jaw when listening to those gems. The quality level of the music continues in the artwork, and as usual we get a really slick, informative digipack with subtle artwork. All in all, a great package and a no-brainer purchase for the many members of the Ultimae Army… Fans of eclectic downbeat can also start, what will undoubtedly be, their life-long love affair with Ultimae here... Enjoy!
- DeathPosture
Tracklist
CARBON BASED LIFEFORMS - Digital Child
SOLAR FIELDS - Fiat Lux
ISHQ - Ra
OCHI BROTHERS - Silver Shore
NOVA featuring AES DANA - Kalaallit Nunaat
SYNC24 - Waiting
HOL BAUMANN - Human
AES DANA - Aftermath #8
VIR UNIS - Light Curve
ANTONIO TESTA - Sunset
Various artists - Albedo
Released July 2005 on Ultimae Records
Albedo is a concept compilation where all tracks contribute to a single unified story.
On his first official mix release on Ultimae Records, Nova has selected a kaleidoscopic array of new panoramic tunes with a strong cinematic feeling and a common fil rouge that tells a story of light beams falling on Earth, reaching different corners of the planet, from natural lonely environments of forests, empty shores and arctic landscapes to more busy urban cyberspaces ending in an ethereal, tribal yet meditative sunset.Included in the compilation are established in-house artists such as Aes Dana, Solar Fields, Carbon Based Lifeforms, Hol Baumann and Sync24 alongside other well known and respected projects within the international ambient music realms : Ishq, Ochi Brothers, Vir Unis and Antonio Testa.
Also included is a very interesting newcomer, Between Interval and a track by Nova himself with the artistic supervision of label manager and producer Vincent Villuis (Aes Dana)These new ambient refractions are mastered by Huby Sea and wrapped in a 3 parts digipack CD including a 16 pages booklet.
The Sun goes up, the Sun goes down...
Albedo will suit anyone already into Ultimae's trademark sound - ambient atmospheres and light percussives that often intensify into restful trance beats. If you're enjoying this year's exploration of chillout environments, you won't find anything much better than this CD - Nova tells a compelling musical narrative.
- Paul,
Morpheus Music