This text will be replaced by the flash music player.
Secret Observatory
Release date: April 2005
Label: Spotted Peccary Music
Secret Observatory is the exploration of depth, discovery, and subtlety.
Four long-form mixes of timeless dimensionless atmospheres, traverse the abyss of space, seeking - and finding - glimpses of other, distant worlds. Through a powerful imaginary "telescope" comprised of delicate harmonics, sublime electronic tonalities, and deep space atmospherics, trance-electronic composer Between Interval searches the skies, discovering beauty and darkness throughout, and revealing with real purpose the co-existence of the past, present, and the future.
Press reviews & comments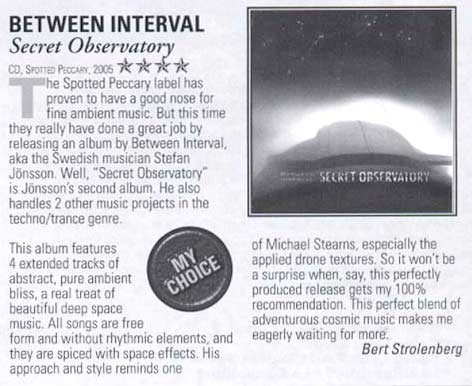 - Bert Strolenberg, E-dition Magazine
A must have ambient recording in my opinion.
- Dene Bebbington, Melliflua
"#1 space music title for 2005"
- Lloyd Barde, Backroadsmusic.com
For me, one of the most sophisticated masterworks in deep space journeying!!! Could be described as a magnum opus for Between Interval, but "Secret Observatory" was followed by another two phenomenal albums in 2006 and 2009. But that's a different story...
- Richard Gürtler,
Relaxed Machinery
One need only look at the cover image and read the title to get a solid indication of what to expect: deep mysterious spacemusic. Jönsson does not disappoint in that regard. Comprised of four lengthy tracks (only the last one is under fourteen minutes, and it's still eight minutes long), Secret Observatory takes the listener on a voyage to the outer edges of our galaxy and beyond. This is as close to ideal cosmic music as you're gonna get.
- Bill Binkelman, Wind and Wire
"Jönsson's palette is wholly, splendidly electronic (not a note of percussion to be heard), and he sustains a nonjarring, deep-megahertz ambiance throughout the disc's 56 minutes as he transports listeners to the far fringes of deepest space. The result is an audio sojourn that is mysterious and wondrous, with a faint hint of tension that gradually translates into a state of cautious awe."
- Terry Wood, Amazon.com
As I was listening to "Garden of the Divine," if you actually take the time to listen and absorb the music, I felt as though my mind had been lifted up into the sky and I subconsciously floated across the world. With music like this, the little changes become big and over the course of eighteen minutes, I mentally traveled to quite a few places. This has nothing to do with meditation or being physic. It is when you actually listen to the music and let it do what it will to you. The best part is that it puts you at peace and gives you a true sense of calm.
- Terry Wickham, Mantaray Pictures
Harmonic flows dominate these compositions. There are no pinnacles or moments of blinding insight. Everything is boundless, coaxing the minds of the audience to adopt this infinite mien. An environment of limitless potential is created from this heavenly sway of sparse tonalities.
- Matt Howarth,
Sonic Curiosity
...det går inte många minuter förrän jag är fast, för inledande spåret "Garden Of The Divine" är mästerligt, och de arton minuterna känns mycket mindre. Between Interval rör sig hela tiden mellan klassisk ambient och den betydligt mörkare varianten spacemusic.
- Jonaz Björk, Zero Music Magazine. (Swedish only)